Community Health Centers aren't just great places to improve the health and wellbeing of everyone they serve, they're also an incredible place to work – and the Community Health Care Association of NYS wants to showcase all that they have to offer.
Whether you're a CHC looking to find that perfect clinician or a prospective employee searching for an amazing career, you've come to the right place. In addition to adding to or searching our jobs board, you can also watch a video highlighting the many reasons community health centers are prime employers – as explained by the clinicians themselves! You can also view our brochure (below) – and if you're a member health center – you can download and personalize it with your CHC's name, address, and contact info.
Still have questions? Email workforce@chcanys.org and a CHCANYS workforce expert will get right back to you with the help you need to ensure your success.
Workforce Pipeline Recruitment Video (above)
If you would like to get a downloadable version of CHCANYS' Workforce video, please fill out this form to request access. Please allow the CHCANYS team 48 hours to review all requests.
Working at a Community Health Center in New York State
Bureau of Health Professions Shortage Designations Branch 
The Shortage Designation Branch in the HRSA Bureau of Health Professions National Center for Health Workforce Analysis develops shortage designation criteria and uses them to decide whether or not a geographic area or population group is a Health Professional Shortage Area or a Medically Underserved Area or Population.  To access this information, click here.
Health Professions Training Programs – Loan Repayment & Scholarships
National Health Service Corps 
The National Health Service Corps (NHSC) builds healthy communities by supporting qualified health care providers dedicated to working in areas of the United States with limited access to care. Through its scholarships and loan repayment options, NHSC enables health centers in rural, urban, and frontier communities to compete with private medical practices and prevent a growing primary health care shortage. 
 

NURSE Corps 
NURSE Corps awards scholarships and loan repayment to nurses, nursing students, and nurse faculty. 
 

Doctors Across New York 
Doctors Across New York (DANY) is a series of state-funded programs enacted in 2008 to help train and place physicians in a variety of settings and specialties to care for New York's diverse population. 
Workforce Tools and Resources
Readiness to Train Assessment Tool 
As part of HRSA's Health Professions Education and Training (HP-ET) Initiative, HRSA partnered with Community Health Center Inc. (CHC Inc.) a HRSA-funded National Training and Technical Assistance Partner to develop the Readiness to Train Assessment Tool (RTAT™) to help health centers assess their readiness to engage in health professions training programs. Every CHC and Look Alike in the country is being invited to participate and your team's input is essential. The information from the survey used to generate T/TA for CHCs and overall results will be shared by late 2021.  
 

Association for Clinicians Underserved STAR² Center 
The STAR² Center is a project of the Association of Clinicians for the Underserved (ACU). ACU is a transdisciplinary membership organization working on behalf of the NHSC and clinicians who provide care to the underserved. 
 

The Weitzman Institute 
The Weitzman Institute (WI) is a unique organization dedicated to research and innovation in primary care. WI's Efforts include development of training to expand health centers' strategies to recruit, develop, and retain clinical workforce. 
 

Center for Health Workforce Studies  
A not-for-profit research organization whose mission is to provide timely, accurate data and conduct policy-relevant research about the health workforce. The Center's work assists health, professional, and education organizations; policy makers and planners; and other stakeholders in understanding issues related to the supply, demand, distribution, and use of health workers. 

Center for Health Workforces Studies FQHC Recruitment and Retention Infographic (click to download)

CHCANYS Workforce Maps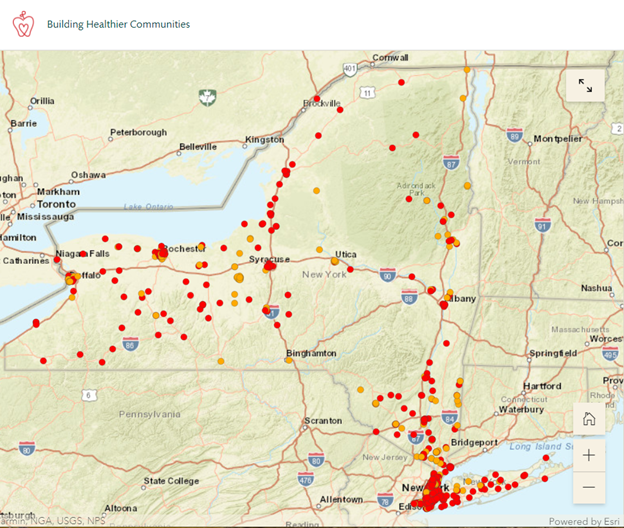 This map shows the reach of community health centers across New York State. Every day, dedicated professionals at nearly 900 locations provide high-quality, affordable health care to 2.3 million residents. Click here, or on the map above, to access the full, interactive, map.
Customizable Workforce Brochures (Members Only)
The below workforce brochures can be downloaded and personalized with your community health center's name, address, and contact info.

Please note: all brochures have the same text with different images.
Workforce Resiliency Resources