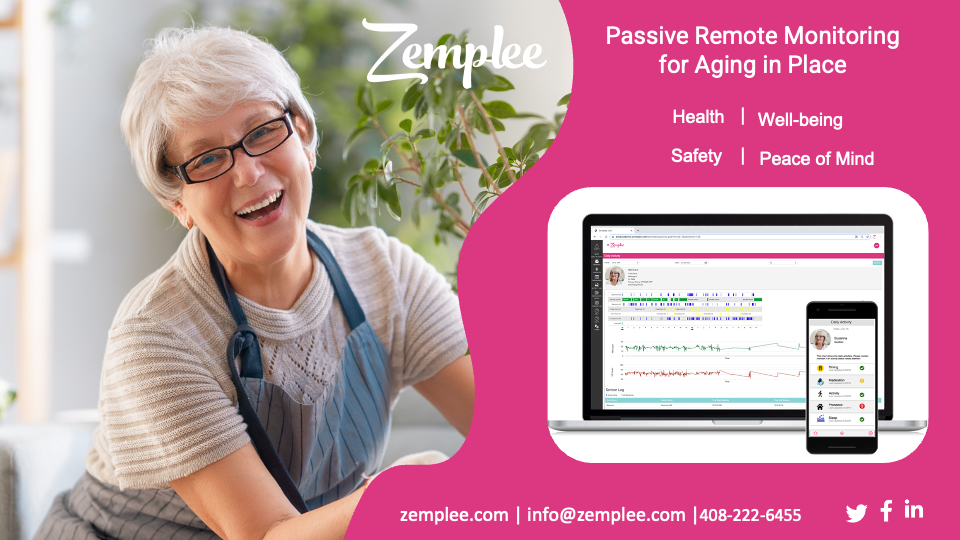 Type
Remote Patient Monitoring
Summary
Zemplee extends life for self-managing elderly through better behavior recognition and care team engagement. Zemplee is an AI-Powered passive remote monitoring system for aging in place. It uses a combination of clinical and non-clinical privacy-centric sensors placed in an elder's home or within their room in a facility. An AI-powered cloud application acts as your elder's guardian angel, monitoring their health, wellbeing, and safety. A companion web application and a patent-pending AI-powered alerting system keep families and providers updated, informed, and engaged. Zemplee also offers add-on and virtual Mental Health management services through partners. Zemplee's devices automatically collect the data and send it to our cloud application. Any verification and quality checks on the data are done in our cloud application. Since Zemplee is a cloud-based application, providers will be given access to the client's data through the Zemplee web application. Zemplee is compatible with AT&T, Verizon, Sprint and T-Mobile networks.
Cost
Zemplee is a subscription service, and we charge by the unit (bed, living unit, or home). Prices start at $69/month but depend on the choice of devices and levels of services. We are a great partner and a turn-key solution with zero training costs, implementation fees, maintenance, or upgrade costs. We can provide special pricing for FQHCs. Zemplee is also eligible for CMS reimbursements in a Physician supported RPM billing.
Implementation Details
The Zemplee kit is simple to install and is shipped pre-programmed to the client. Without needing any software installed, implementation is a breeze with Zemplee's two options: 1) Clients install the system or seek help from a friend or family using detailed guides and video instructions 2) Zemplee installs the system at a minimal cost to the family. The installation process involves plugging a Communication Panel Device into a power outlet and installing sensors.