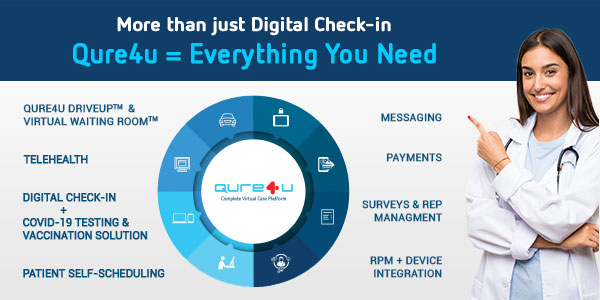 Type
Care management and engagement solution
Summary
Our industry-leading contactless care management & engagement solution empowers your patients with their digital health key™ – convenient access to care at their fingertips. Care management features are easily accessible and embedded into your EHR. Qure4u's smart, intuitive tools allow hundreds of healthcare organizations across the country to enable socially distanced workflows to create safe care and interactions. Some features included are contactless check-in with QuickLink™ (no more communal tablets or kiosks!), remote arrival with Qure4u's Drive-up™ innovation, online Self-Scheduling, and digital check-in and registration. 
Cost
Cost details are available upon request.
Implementation Details
Implementation begins immediately following agreement execution. Telehealth services can be implemented in a little as 48 business hours for existing EHR integrations.