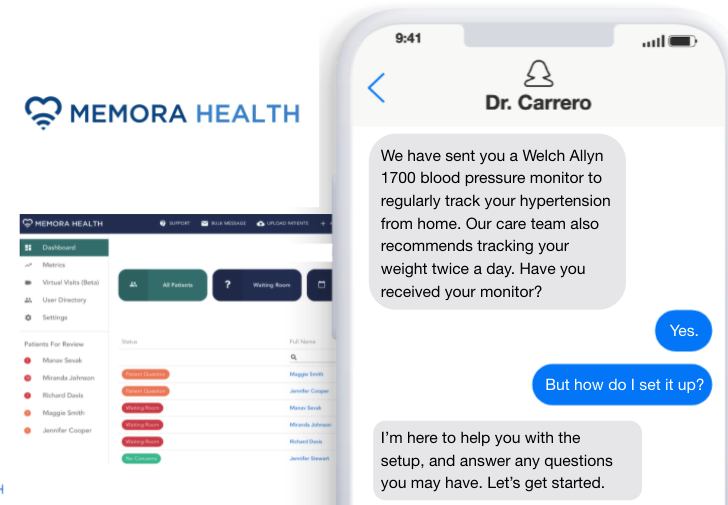 Type
Remote Patient Monitoring
Summary
Memora Health has built a suite of workflow and communications products that help providers deliver scalable support, resources, and information to their patients outside the clinic setting. Memora uses cutting-edge natural language processing (NLP) to analyze existing workflows and to digitize clinical information into a unified patient timeline. Memora then uses AI to clean this data and convert it into actionable workflows that are directly embedded into an EHR. Memora's platform intelligently powers RPM, virtual care delivery, patient navigation, and complex care management. Memora's approach to RPM is highly patient-centric. Memora uses an engagement-first approach that is culturally competent and rooted in motivational interviewing to successfully implement and sustain RPM programs while fully supporting patients in their care. Memora is unique in that it does not require an app to be downloaded by patients thereby making adoption significantly easier. Memora does not provide only physiologic-based RPM but layers qualitative data collection and validated clinical pathways to provide contextual understanding of a patient's status. All data collected via the SMS-based platform or through a device are accessible within the Memora dashboard and EHR via integration. This approach allows Memora to overcome the three main challenges that often prevent stand-alone RPM programs from delivering on their promise.
Cost
Memora's pricing model is tier-based and incorporates an at-risk component - Memora's recurring cost is directly correlated with total reimbursable data collection powered by the platform. Memora charges a one-time program set up fee and recurring monthly subscription cost (SaaS model), making the platform economically feasible to use at both small and large scales. The pricing model does not change with scale but the unit price significantly decreases – Memora's pricing model is designed to incentivize organizations to maximize the number of patients they are able to enroll into the various supported programs. Based on the total reimbursement generated, Memora takes a scaled fraction. Memora Health is committed to support FQHCs in their critical mission to provide healthcare to vulnerable populations and offers FQHCs a significant discount on a recurring monthly fee, waived implementation fees, and no at-risk component.
Implementation Details
Memora Health implementation includes comprehensive procurement, configuration, training, and integration within 10-12 weeks. Without any technical integrations (device or clinician-facing), Memora Health's RPM solution is typically implemented within 4 weeks. This process includes dashboard and RPM data set up, customization of escalation pathways, patient-facing messaging deployment, testing, and training of staff/providers. Memora designs custom escalation workflows, clinical pathways, and data collection standards per patient type (i.e. CHF, T2DM, etc). If integrations are required with either devices or clinician-facing tools, the total implementation period takes 10-12 weeks. Memora conducts comprehensive UAT (2 weeks) and unlimited training sessions to facilitate a smooth go-live.