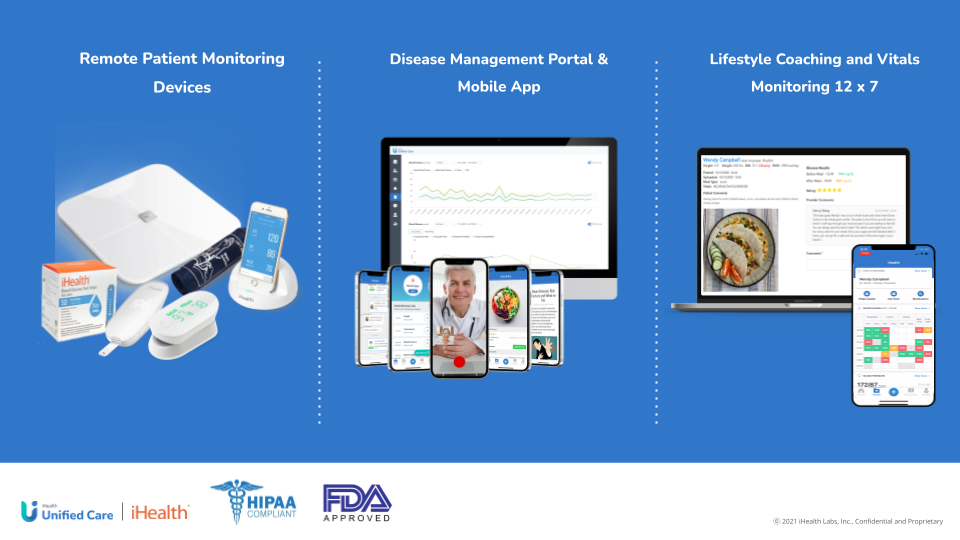 Type
Remote Patient Monitoring
Summary
iHealth Unified Care is an all-in-one solution for chronic disease management. The Unified Care remote patient monitoring (RPM) and chronic care management (CCM) program provides personalized patient care, a provider-centric care team, data-driven software, and smart devices to ensure compliance and better clinical outcomes. Patients can take vital measurements using the Unified Care app. The data is transmitted in real time to the Unified Care provider portal, which then generates smart alerts for elevated readings. The Unified Care clinical team actively reviews elevated readings, messages/calls patients, reviews food diaries, and medication compliance. Through the web portal, our care team will escalate alerts to the provider's team for review on an as-needed basis. iHealth supports real-time access to patient data to providers via the web portal. iHealth Unified Care will provide monthly billing reports for claims and reimbursements. Additionally, iHealth will provide a monthly individual patient summary which includes a care plan and vitals data. We provide customizable clinical outcome reporting and analysis. iHealth can provide technical onboarding and education for the iHealth devices to patients.
Cost
We offer special pricing to FQHCs to accommodate grant funding and monitoring needs. In the iHealth Unified Care model, the cost of the provider platform, patient app, devices, and clinical care team is included in a flat-fee service rate. In iHealth Unified Care's Software as a Solution model, the cost of the provider platform, patient app, and one device is included in a flat-fee rate. Other devices can be purchased directly from iHealth and volume discounts are applied for FQHCs. For either of these models, the cost is under $50.00. Pricing models are generally structured on a per patient per month basis. The implementation cost depends on the level of customization needed for the center. There are no additional upkeep, maintenance or upgrade costs for the devices.
Implementation Details
The Unified Care implementation process is a simple, customizable, and efficient process. Our team provides training and technical support to providers and clinical staff. Implementation is completed within 3-5 business days and can be customized as required by the center.