National Health Center Week (NHCW) will take place August 7-13 this year! NHCW is an annual celebration with the goal of raising awareness about the mission and accomplishments of America's health centers over the past five decades.
Planning an event? Submit it here!
Click here for a list of all NY events. 
Each day of the week will highlight different focus areas:
For FAQs about NHCW, click here.
Social Media Toolkit
Social Media Template Messages and Graphics
Sunday, 8/7: Public Health in Housing Day
Today is Public Health in Housing Day and health centers across the country are highlighting how providing access to stable housing improves health outcomes and reduces healthcare costs. #NHCW22 #ValueCHCs

Healthy New Yorkers start with access to safe and affordable housing! #NHCW22 #ValueCHCs

Providing access to stable housing is critical to improving health outcomes. Yet at least 92,000 New Yorkers are experiencing homelessness. All New Yorkers deserve access to affordable housing and healthcare! #NHCW22 #ValueCHCs

Access to affordable, safe, and stable housing is critical to improving health outcomes and building healthy communities. And health centers are an important resource in many communities to connect patients to housing resources #NHCW22 #ValueCHCs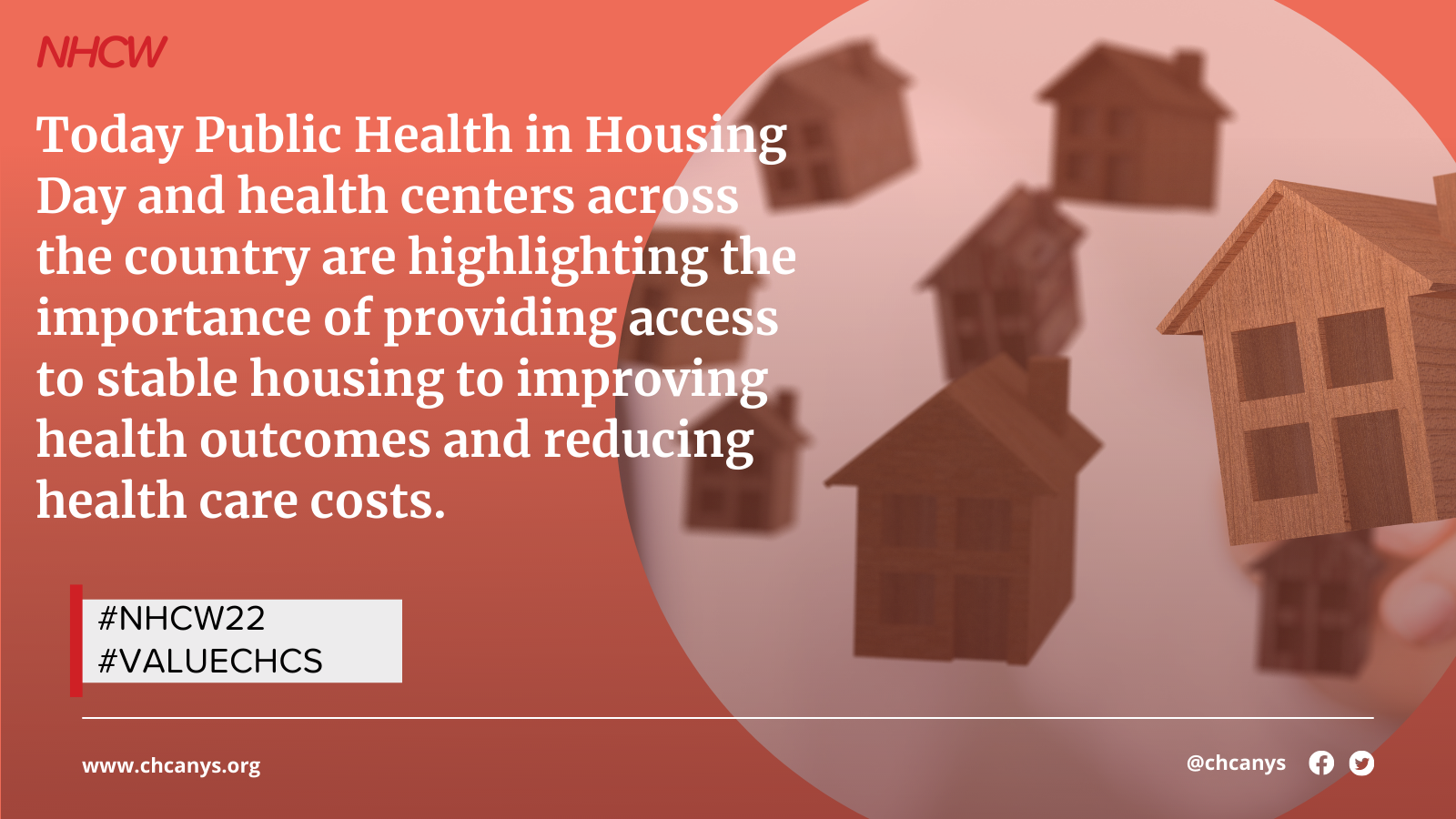 Monday, 8/8: Healthcare for the Homeless Day
Today, for National Health Center Week, health centers are raising awareness on the importance of providing healthcare for the homeless. Everyone deserves access to affordable, quality healthcare and a chance to live their healthiest life #NHCW22 #ValueCHCs

Health centers are the safety net for healthcare for low-income and medically underserved communities throughout the country. Each year, health centers serve 1.3 million individuals experiencing homelessness #NHCW22 #ValueCHCs

CHCs are an important access point to affordable, quality healthcare for people experiencing homelessness who often have difficulty accessing mainstream healthcare #NCHW22 #ValueCHCs

People experiencing homelessness experience higher rates of chronic and acute disease, mental health issues, and other health conditions. CHCs provide critical continuity of care to ensure that people experiencing homelessness are addressing their health issues #NCHW22 #ValueCHCs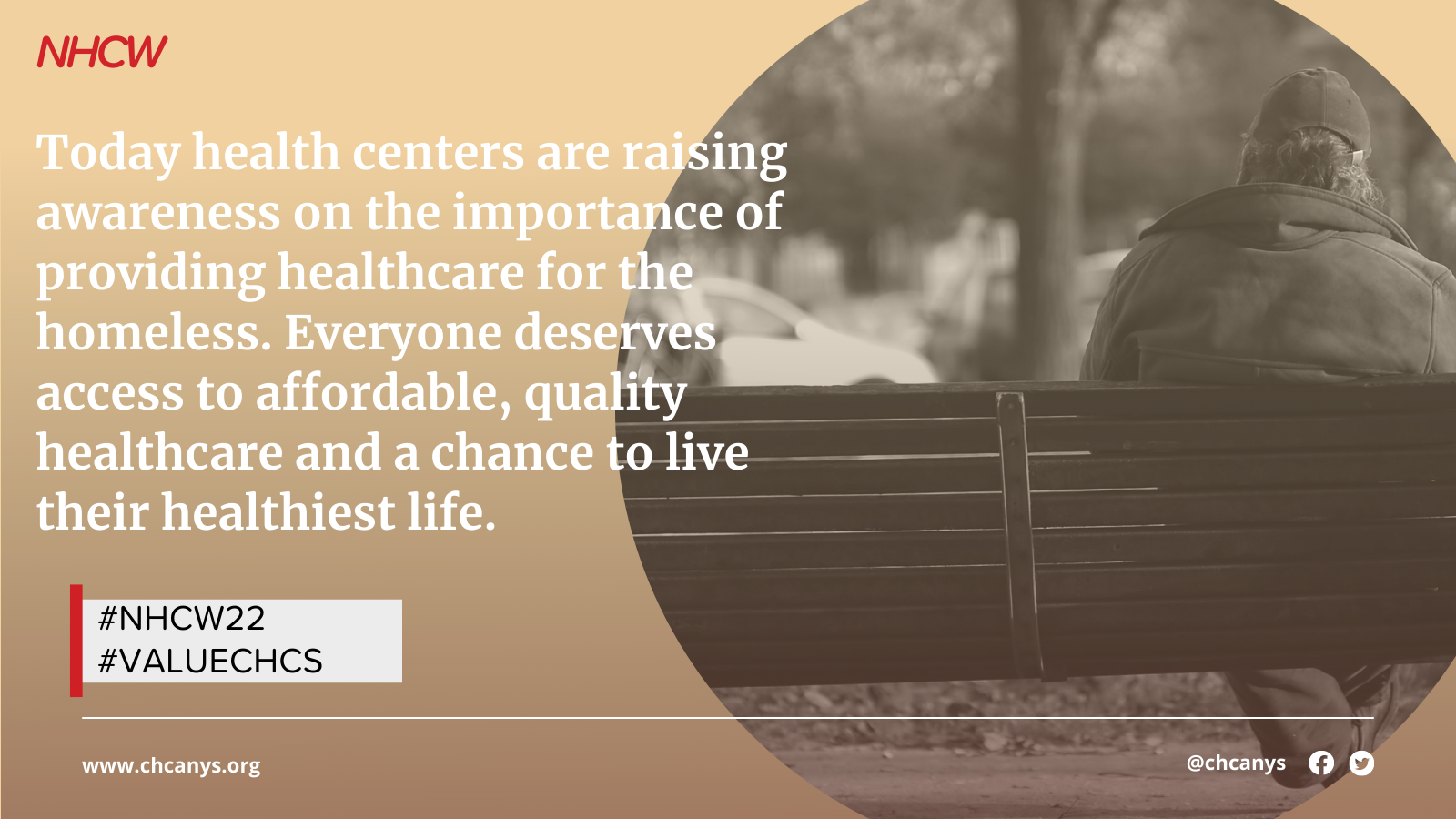 Tuesday, 8/9: Agricultural Worker Health Day
Today is National Health Center Week: Agricultural Worker Health Day! This year also marks the 60th anniversary of the passage of the Migrant Health Act, the landmark agreement which would later lead to the Community Health Center Program. #NCHW22 #ValueCHCs

CHCs are a critical access point for healthcare and social services for agricultural workers. CHCs serve approximately 20% of the estimated 4.5 million Agricultural Workers in the United States #NCHW22 #ValueCHCs

CHCs and Migrant Health Program grantees ensure access to quality primary and preventive care for agricultural/migrant workers who might otherwise go without care #ValueCHCs #NCHW22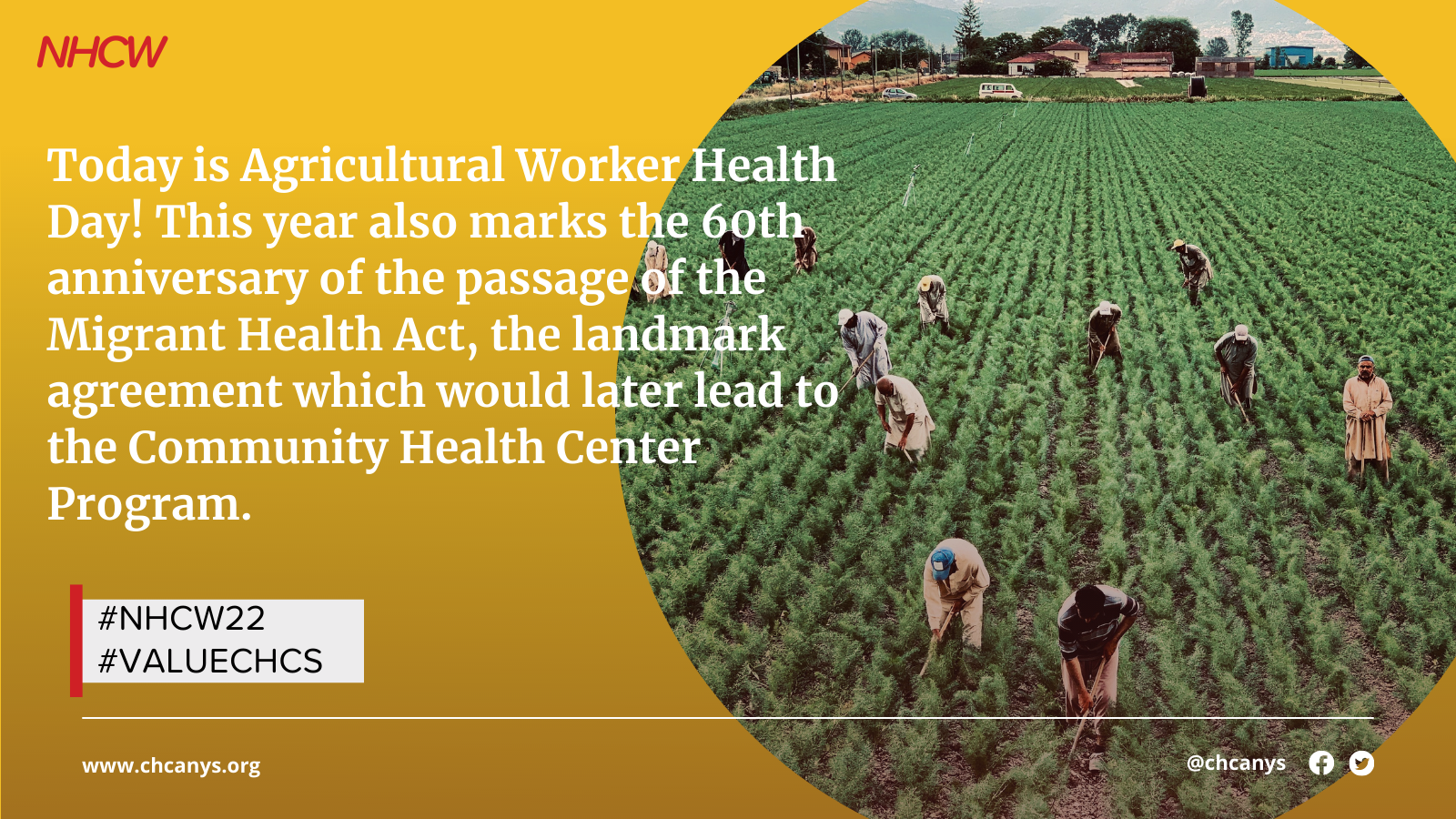 Wednesday, 8/10: Patient Appreciation Day
Today is Patient Appreciation Day during National Health Center Week! Did you know that CHCs are community-run, with over 50% of Board members comprised of patients of the health center, ensuring the CHCs are patient informed and patient governed?  #ValueCHCs #NCHW22
Over 50% of CHC Board members are comprised of CHC patients. These patients are individuals who live in the community served by the health center and are dedicated to representing the needs and voices of the community #ValueCHCs #NCHW22

Today and every day, we celebrate patients and community board members who keep health centers accountable and abreast of community needs. #ValueCHCs #NCHW22

CHC patients are the greatest advocates of CHCs! Click here to hear from 4 CHC patients about the life changing care they receive at their CHCs #ValueCHCs #NCHW22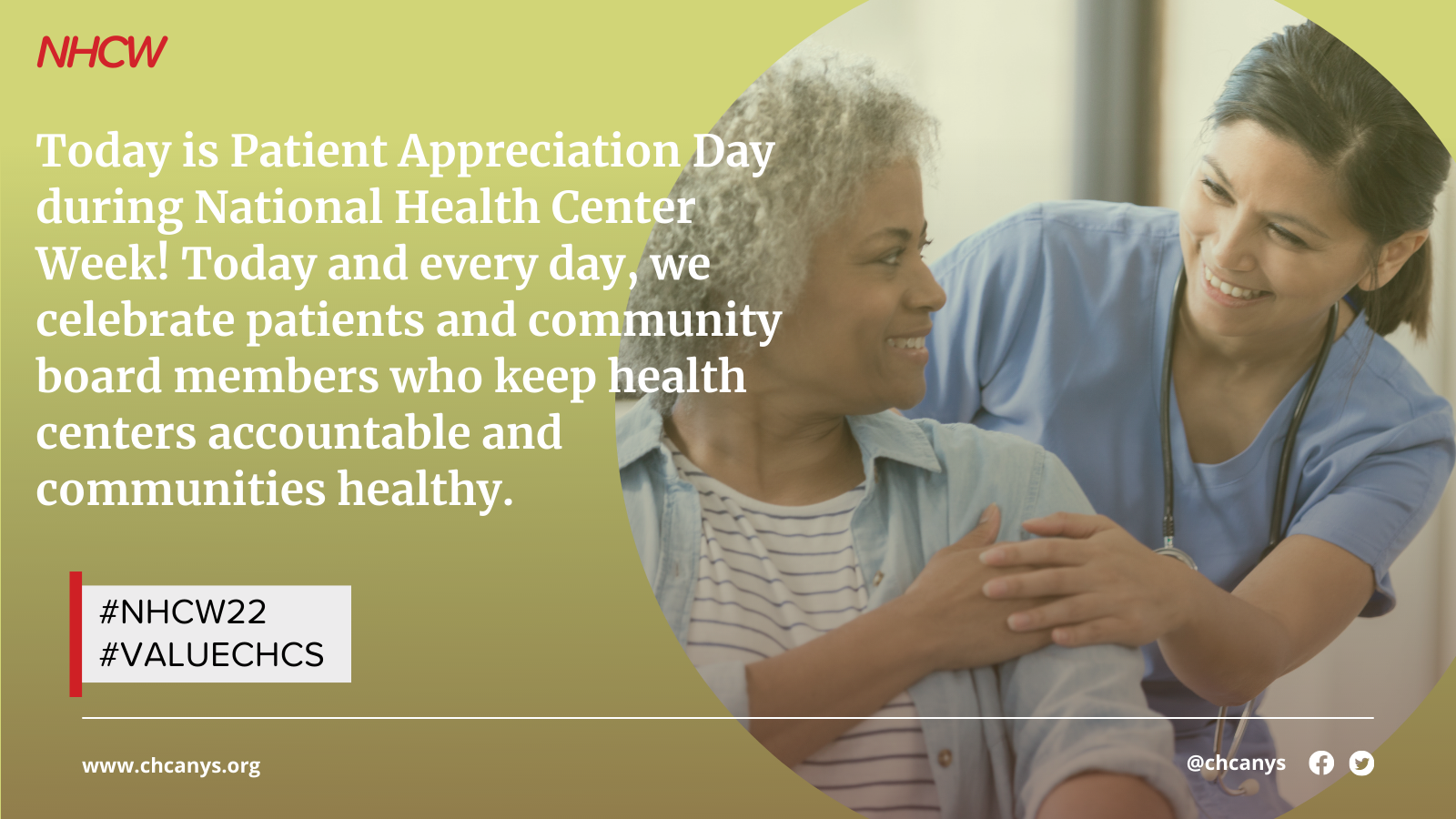 Thursday, 8/11: Stakeholder Appreciation Day
For #NHCW Stakeholder Appreciation Day, we want to recognize our CHC champions at the local, state, and federal levels who advocate on behalf of CHCs to ensure that all New Yorkers have access to quality, affordable primary and preventive care! #ValueCHCs

In honor of #NHCW Stakeholder Appreciation Day, we want to shine a spotlight on the incredible organizational and coalition partners who help to advance CHC priorities! Thank you @xxx for your incredible leadership and partnership! #ValueCHCs

Thank you @XXXX for being a community health center champion! Because of you, we can keep our doors open and lights on to provide critically needed healthcare services to the communities that need it the most #NHCW #ValueCHCs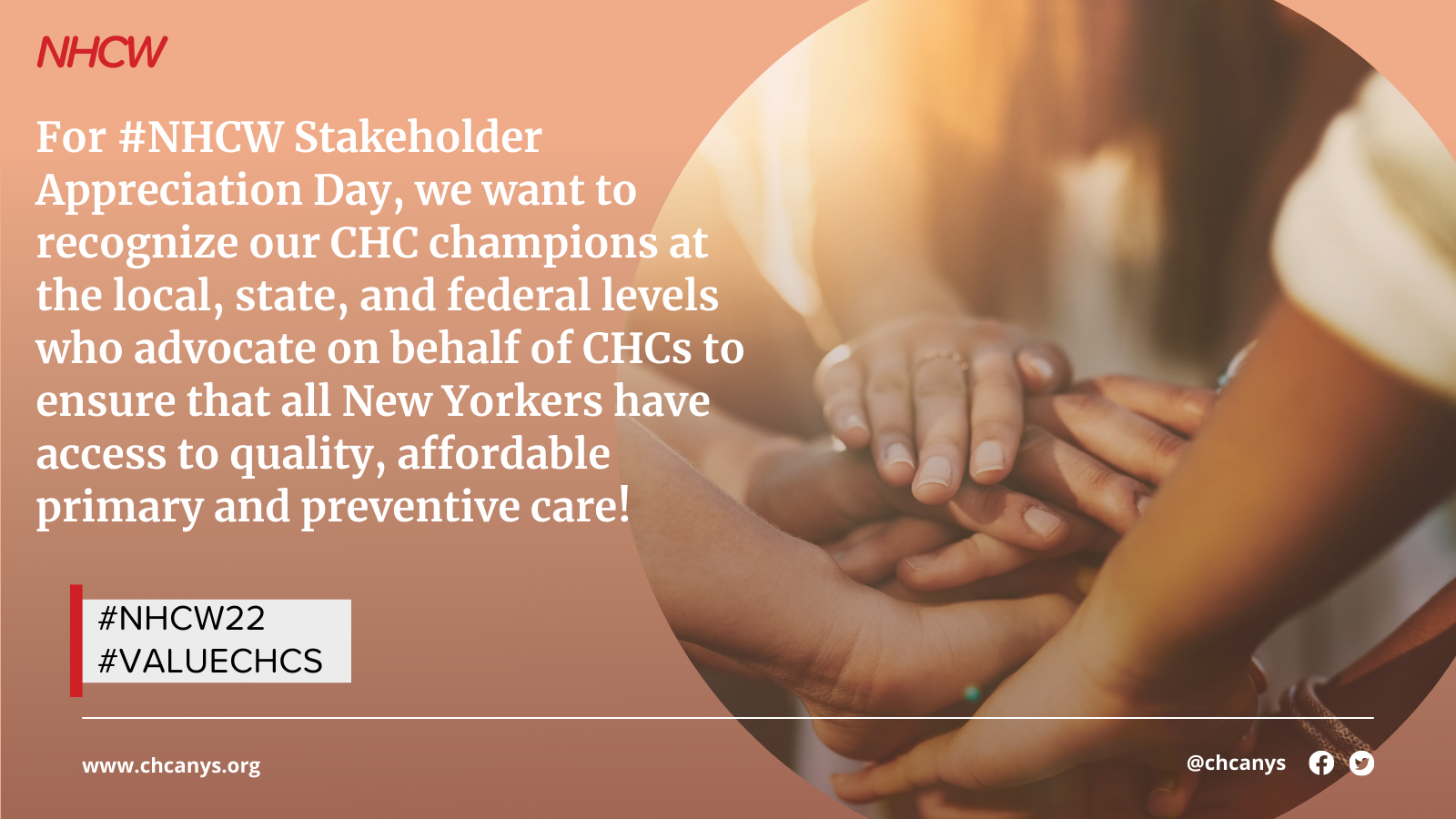 Friday, 8/12: Health Center Staff Appreciation Day
Today is #NHCW Health Center Staff Appreciation Day and we want to express our continual appreciation and thanks for the incredible CHC staff and volunteers who have worked tirelessly throughout the pandemic to ensure all NYers have access to healthcare #ValueCHCs

The community health centers bring incredible value to their patients and communities and it's all because of the diligent work of health center staff and volunteers who are dedicated to providing high quality care to patients in need. #ValueCHCs #NCHW22

CHC staff and volunteers are the reason why CHCs are able to provide high quality, affordable healthcare to all day in and day out. Thank you CHC staff and volunteers for your dedication and commitment to the Community Health Center Movement! #NHCW2022 #ValueCHCs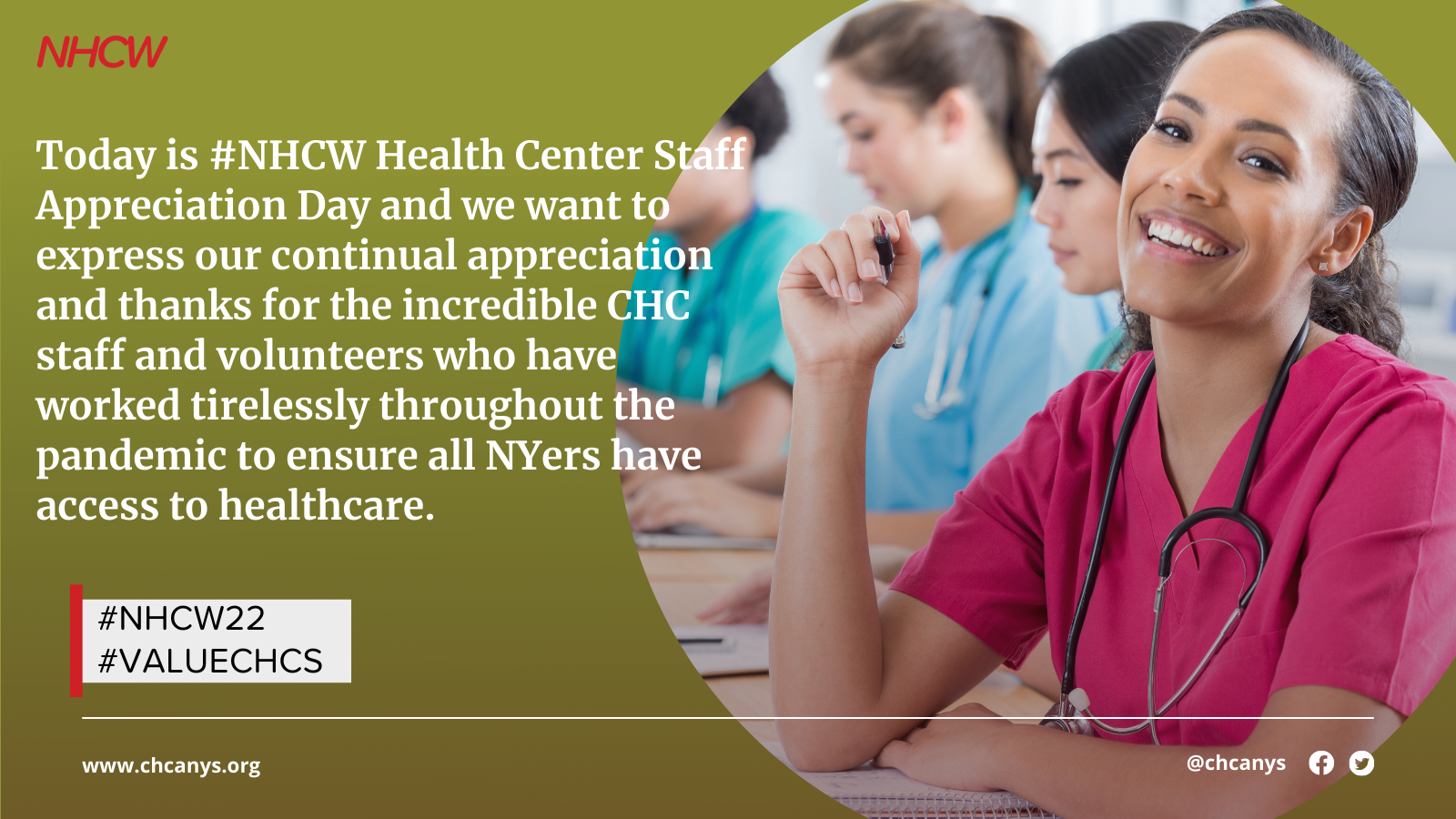 Saturday, 8/13: Children's Health Day
This #NHCW Children's Health Day, we are raising awareness on the importance of engaging children and families on health and wellness so that they can be empowered to make informed decisions about their health #Value CHCs

CHCs provide primary care to more than 8 million children in the United States #ValueCHCs #NHCW2022

From well-child checks to book drives to fun runs, health centers host events and provide resources that will help children feel healthy, happy, and empowered now and in the future. #NHCW2022 #ValueCHCs